Submitted by admin on October 26, 2013 - 12:21am
Are you looking for a mountain bike frame that you can use for adventure cycling? Do you like Kona bikes? Do you have a penchant for niche steel frames. If so read on. However, modern versions of this frame no longer exist in a 26" wheel version, only 27.5 so you will have to look for old ones on eBay and forums.
I have a soft spot for this frame. It was given by Kona to me for the round the world trip. It was so awesome to have this frame arrive at my house, unwrap it and saviour it in all its glory - the fine ping and tuning fork vibration of the steel, the glossy paint, the sexy suggestive name, the relatively high price tag, the weird sliding dropout. At the time I was in awe of Kona. The company for me, embodied the mountain biking scene - creative, unusual, cool, willing to take a risk and with a nice company ethos. Plus many famous riders were on Konas, particularly during the emergence of the freeriding scene.
A bunch more nice picture of the frame
Features:
Frame Material: Chromoly Steel
Head Angle: 70
Headset Type: Aheadset
Seat Angle: 72
Top Tube (in): 22.6
Available Sizes: 14 Inches 16 Inches 18 Inches 19 Inches 20 Inches
I did a pretty comprehensive backstory of the Kona company on this other post about the Kona Caldern
Kona say about the frame:
Our gloriously refined, cromoly steel hardtail comes with adjustable wheelbase dropouts, ready to morph into a singlespeed slayer if so desired. Sloping top tube, snappy rear triangle, this is Kona's original race frame.
What Bike Radar say about the frame:
The Italian tube manufacturer Dedacciai is probably better known in roadie circles, but the elegantly sculpted and paper-thin triple-butted tubes making up the Explosif's main triangle lend it that elusive blend of snappy acceleration and 'zing' that defines the best steel hardtails. With a compact ride position and that lively chassis combined with fast-rolling, big volume tyres, the Explosif's ride character mostly lives up to its name.
What I say about the frame
The 2007 Kona Explosif Frame made from lightweight steel. The bike has a short rear triangle, sliding, removable/replaceable aluminium CNC'ed horizontal dropouts, and a sloping top tube. I had the frame in a British racing green colour which was good for camouflage in green environments- useful for camping inconspicuously.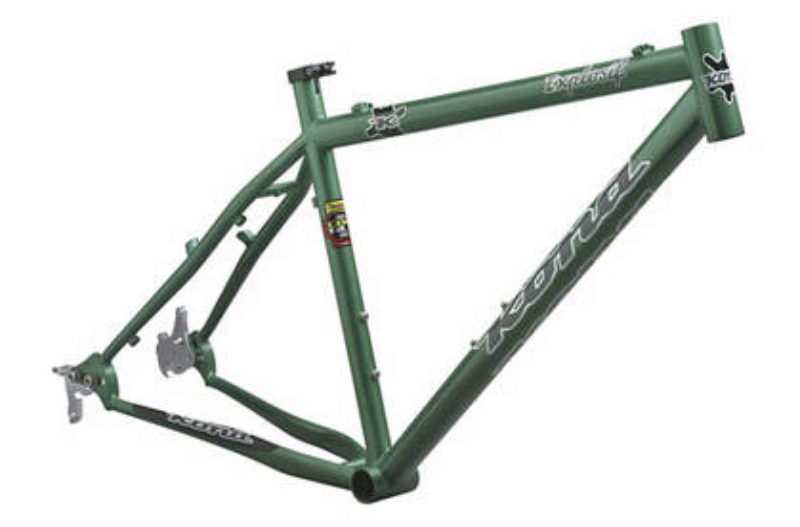 How I used it
I used the frame whilst cycling across Europe from Georgia to India and across Mongolia. I also used the frame for numerous mountain biking trips in the Caucasus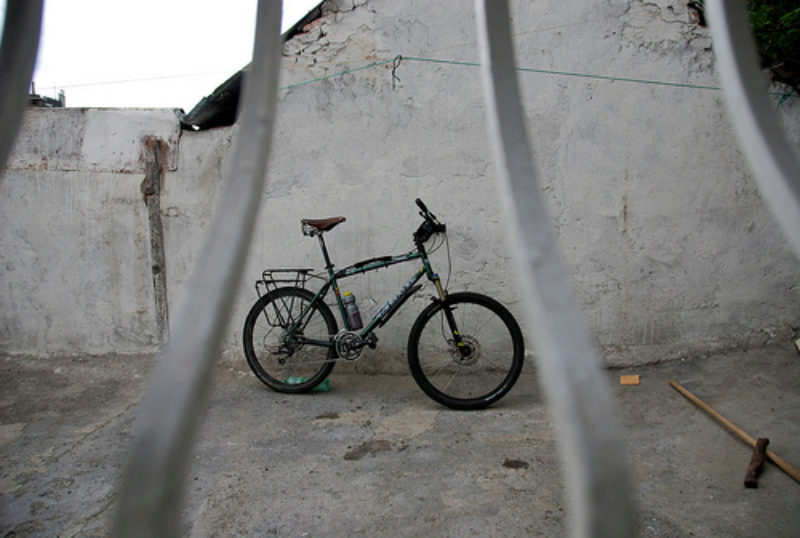 My experience
At first I got a 19inch frame. This came up on the small side so I switched to a 20inch frame. In hindsight, even the 22inch frame would have probably been a better fit for me (I'm 6'2"). I was impressed with the built quality of the frame. The welds appeared excellent. The frame material was light. When I rode the bike unloaded the acceleration and power transfer was noticeable and responsive handling and maneuverability was afforded by the frame. This could even be noticed when the bike was loaded up with luggage. I commend the frame for its strength and ability to carry the amount of luggage that I did. I also used a trailer which meant that extra tension would have been put onto the rear triangle.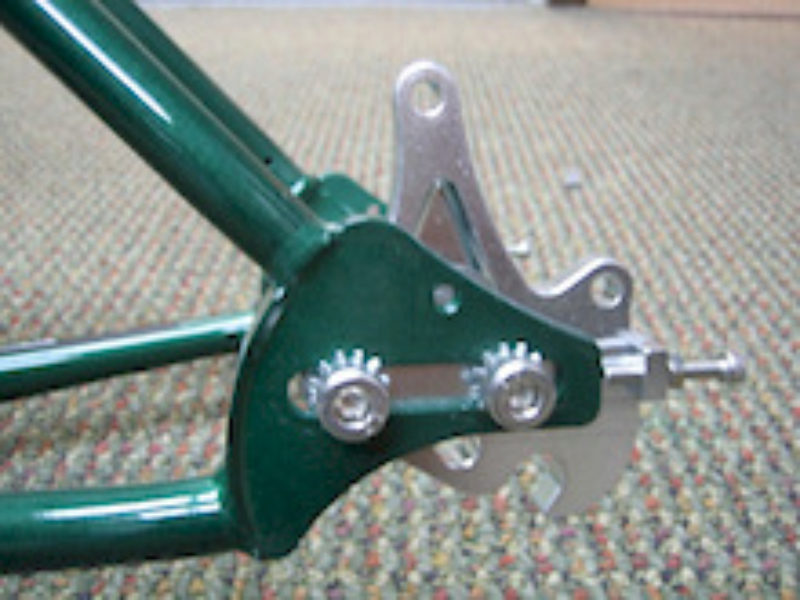 Benefits of the features
replaceable drop out: the gear hanger is more durable (and replaceable- not usually a feature on steel frames). The bike can be turned easily into a singlespeed. -For touring, steel is an optimal material because it has more 'give' compared to aluminium. If steel breaks then it can usually be welded by the local welder in the most far flung village.
Cons
The frame comes up a bit small. The frame snapped after about 15,000km in Delhi, India. I got the frame immediately welded and continued to use it without issues.
Conclusion
To conclude, the Explosif is a quality steel mountain bike frame. The 2007 model I had is suitable for going bike touring but its a mountain bike frame, not a touring frame so its not necessarily the best fit for the job, but still well worth picking up if you are lucky enough to find a second hand one.