Submitted by admin on November 20, 2013 - 11:38am
Upon kitting out my long distance touring bike I knew from past experience that I tended to wear out middle chainrings faster. A worn chainring had proved to be problematic even causing the chain to slip once it had completely worn out. I considered ways I could mitigate this. I wanted something that would be light but also tough. A steel chainring would potentially add weight but be more durable whereas an aluminium chainring would perhaps be lighter but wear out more quickly. Step in the Middleburn Coated Chainring...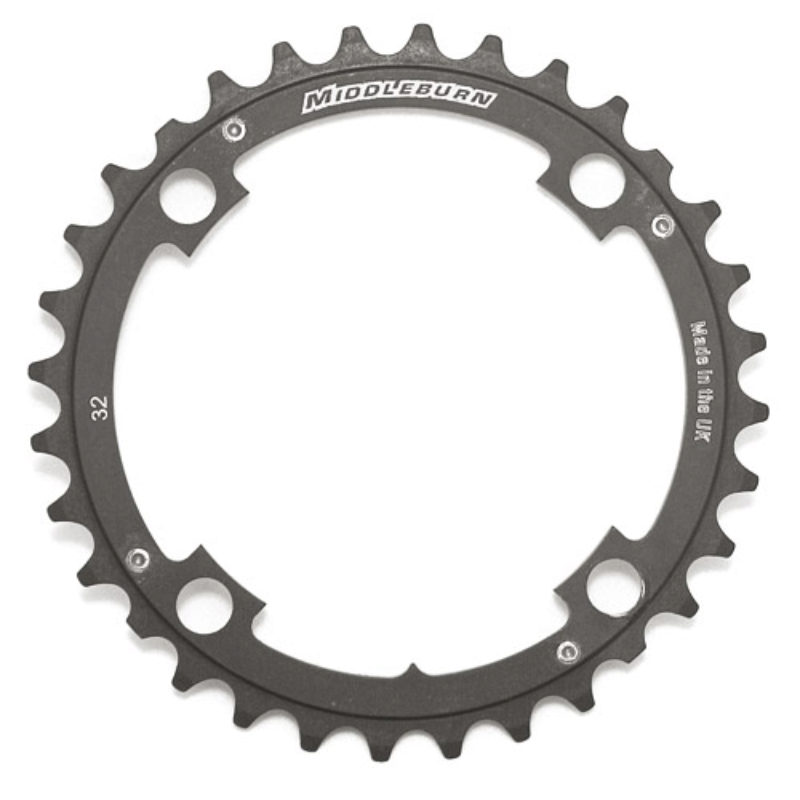 Technical Specs
Teflon impregnated ceramic coating.
Aluminium 7075T6
Industry standard fitments
Feature Benefits
Coating claimed to offer 10 times less friction and 4 times the wear resistance of a standard ring.
Company Spiel
Stainless steel pick-up pins and machined shifting aids on the middle and outer rings provide the smoothest changes possible on 8 and 9 speed systems, even under power!
My Description
The Middleburn Hardcoat chainring is light, well engineering and looks cool with the laser-etched Middleburn logo.
My thoughts / experience
The chainring offered a good compromise between weight and durability whilst long distance adventure cycle touring. Shifting performed well using the ring in combination with Shimano chainrings on an FSA X-Drive crankset.
How I used the Product
I used the ring to ride 15,000km and then continued to use it for around 50 further mountain biking rides.
Conclusion
The hardcoat version of this chainring is a decent investment.
More information can be found on the SJS Cycles website.